Growing older brings many changes, and adults may find themselves struggling a little more with familiar tasks. For seniors looking for extra help, there are several living options available. Assisted living is helpful for many older adults, but what kind of care does it provide?
If you're interested in assisted living, continue reading to learn more about this lifestyle, including what care it provides, who can benefit, and what separates it from other senior living options.
What is Assisted Living?
Assisted living is a form of housing for older adults requiring different levels of medical and personal care. The specific care depends on each person's unique needs. For example, one person may need more help getting ready in the morning while another requires assistance with bathing.
Having difficulty completing daily tasks can lower someone's quality of life. Assisted living provides a helping hand to ease these challenges, allowing residents to experience their lives to the fullest.
Besides help with daily living, these senior living communities offer various activities and amenities to foster a positive and supportive environment. Older adults can live independently, enjoying their hobbies and friendships while knowing someone is always there to offer support.
Who Can Benefit from Assisted Living?
While anyone can benefit from extra help, assisted living helps older adults who have trouble managing their daily lives. This lifestyle is beneficial for seniors looking for more opportunities to meet new people and form connections.
Someone may benefit from assisted living if they:
Struggle with the activities of daily living (bathing, dressing, personal hygiene, etc.)
Struggle with housekeeping (cleaning, yard work)
Forget details such as appointments & medications
Assisted living is perfect for those who find life's demands are a little too much to handle. This lifestyle provides caring staff who can help with whatever you may need. If you're interested in assisted living, what kind of care does it offer?
What Care Does Assisted Living Provide?
Assisted living provides whatever care a resident may need. While care is not as intensive as other lifestyles, it provides 24-hour support for older adults who need extra help but don't require continuous medical care and supervision.
This care can include help getting to the bathroom at night, cooking meals, tidying your home, or managing medications. Everyone has different needs, so each resident receives customized services and care.
If your needs change, your care and services do too. The available staff dedicates themselves to supporting you as best as possible.
Besides daily care, there are many services and amenities available for you to enjoy.
Services & Amenities
Depending on the care you're receiving, senior living communities offer an array of services and amenities. These services can range from prepared meals and onsite staff to a library and fitness center.
Assisted living can offer you:
Personalized health & wellness services
Space to visit loved ones
24-hour health support
Regular physician checks
24-hour onsite staff
Spiritual & mental growth opportunities
Medication management
3 chef-prepared meals a day
Optional laundry services
Group activities
Computer room
Salon
Private dining room
Game & activity room
Whirpool spa
Patio seating
Fitness center
Library
Besides these services and amenities, assisted living offers safe and comfortable apartments featuring everything you may need. These features include television, Wi-Fi, walk-in showers, and a full kitchen with a refrigerator and microwave.
If you're considering assisted living, how does it compare to other lifestyles? What separates it from other options?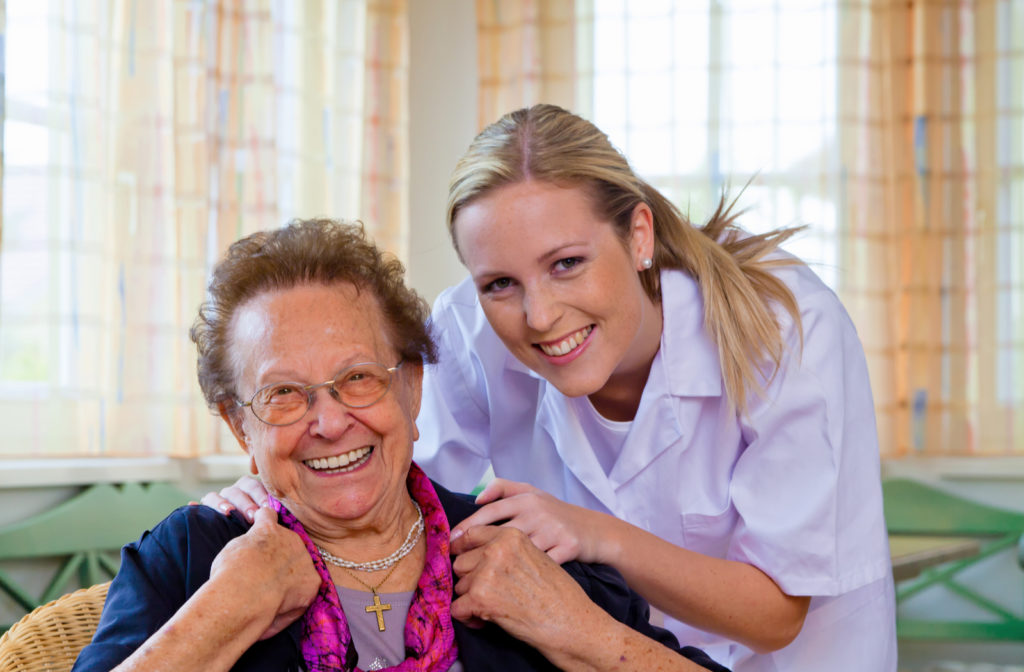 How is Assisted Living Different from Other Care Options?
If you're looking into different care options, you've likely heard about lifestyles such as independent living and memory care.
Like assisted living, these senior living options help older adults live independently, but they have different levels of care.
Independent living is perfect for seniors who can live independently but want help with more strenuous daily tasks. With less time dedicated to housekeeping and prepping for meals, residents can enjoy their free time to explore new hobbies and interests.
Memory care is ideal for older adults who require more consistent care. Conditions such as Alzheimer's and dementia can lead to memory loss and an inability to live alone. Someone may need help with eating, personal hygiene, and other tasks, and memory care staff is available at all times to provide this support.
Assisted living falls between these other levels of care. Care and support are there when needed but not as consistent as memory care.
If you feel assisted living is an option for you, think about your needs and what kind of support you may require. There are always other care options available for you.
Think About Your Future
There are many considerations to make when looking into senior living options. If you have any questions, speaking with a community representative can help.
If you're interested in assisted living options nearby, contact your local senior living community today.